Are your cupboards full of cleaning products from supermarket shelves? These seemingly innocent and friendly looking products harbor many chemicals and toxic substances. They are covered up with lovely fragrances, bight packaging and promises of easy cleaning, but at what cost?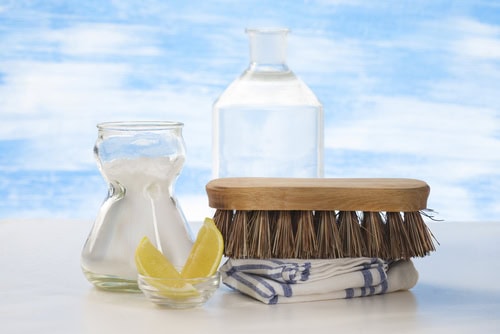 The toxicity in many traditional cleaning products are astounding. There's a wide array of soaps, detergents, bleaching agents, polishes, glass cleaners, and specialized bathroom cleaning products that disinfect and make things germ free but these contribute to indoor air pollution and are poisonous. Some cleaning agents can cause respiratory irritation, watery eyes, chemical burns and others have been associated with chronic, long-term effects such as cancer and respiratory illnesses.
There are healthier ways.
Going green is a personal choice. It's one that is embraced by individuals who become aware how harmful these toxic products can be. It's embraced by those who want to live a longer healthier life, those who want to create a better environment for their family and pets and those who are concerned about our planet and want to make a difference.
At Bliss Home Care, we're incredibly passionate about spreading the benefits of going green. In our own homes and our clients' homes we only use green cleaning products.
Here's 7 reasons why you too should choose green cleaning products over traditional cleaning products.
Improve indoor air quality
You can dramatically improve the indoor air quality of your home by removing harmful toxins and pollutants. In particular, if you have young children or any family members who have respiratory ailments such as asthma this will be a breath of fresh air. You should also regularly open doors and windows for ventilation and add indoor plants to your living areas which help to reduce carbon dioxide levels and increase humidity.
Avoid harmful effects with green products
Traditional and commercial cleaning products pose risks such as chemical burns to your skin and eyes. Always avoid any cleaning products that come with warnings on their labels – why would you knowingly bring these into your home and use them? Green cleaning products are not corrosive and must meet strict standards in Australia regarding inhalation toxicity, combustibility and skin absorption. Always choose green products to avoid harmful effects to your health.
Save money by making your own
You can save considerable amounts of money by mixing and using your own cleaning products. There are 3 simple products that you will mostly likely already have in your kitchen pantry that you can use to keep your home sparkly clean without the toxins – bi-carb soda, lemon and white vinegar. Take a look at our earth friendly cleaning blog for ways you can incorporate these into your cleaning regime for safe and effective earth friendly cleaning: https://blisshomecare.com.au/earth-friendly-cleaning/
Make cleaning easier
You don't need a whole arsenal of toxic products to keep your home clean. Tackle your cleaning with green products that you can either make yourself (as detailed above) or consciously make the decision to choose green cleaning products. Green cleaning products generally have multiple uses rather than having to switch between products for different areas of the home. For example, vinegar can be used to clean mould and mildew, as a window cleaner and toilet bowl cleaner just to name a few.
Make cleaning safer
Choosing to use natural cleaning products means you will make cleaning safer - not just for yourself but also during pregnancy and when you young children. Kids love to help out and get involved and green cleaning products, particularly those you make at home, are safe enough for them to use. You won't have to worry about gloves, you won't have to lock up harmful cleaning products, you won't have to worry about poisoning or toxic cocktails.
Create a cleaner and greener environment for future generations
When you go green, you are reducing your carbon footprint. By reducing the amount of pollutants you use, you are reducing the amount of harmful toxins that get washed away into our waterways and environment. This will have a huge impact on the environment and will create a cleaner and brighter future for future generations and our planet.
Become a green role model
Once you begin using green cleaning products and methods you will realise how effectively they work and how beneficial it is to your health and lifestyle. Don't be shy about your green cleaning ways - spread the word! Tell those you care about how easy it is and how you do it. You're setting a great example for others and also encouraging future generations to opt for a brighter and healthier planet.
Make a conscious decision to switch green cleaning products and practices in your home. Not only will you save time and money but you will dramatically improve the lifestyle for yourself, your home, family, pets and our planet.
Start by taking small steps to going green and you will make a BIG impact in the world.