With so many choices for vacuum cleaners on the market the choice can be difficult, particularly if you are seeking an environmentally friendly vacuum cleaner. Here we have prepared a list of things to help you pinpoint what you need to look out for when making your next vacuum cleaner purchase.
The purpose of a high performance vacuum cleaner is to get as much dirt and soil out of carpets to ensure your home is clean and fresh. During this process we should take note of the toll this may be having on the wider environment, our home environment and our lives, particularly if you are an allergy or asthma suffer or have family members who are.
Environmental Rating
These sucking machines consume energy in the form of electricity to operate efficiently. It's important to note that corded vacuum cleaners are deemed more energy efficient than cordless/battery powered vacuum cleaners. This is due to batteries that require recharging which in the long run, increases your energy consumption. The batteries also increase the presence of toxic particles in the environment. So opt for a corded vacuum cleaner.
Check Dust Containment
Let's face it vacuum cleaners are dirt and dust collectors. Essentially that's their purpose, however there are many vacuum cleaners that leak dust because they don't have strong quality seals. If you suffer from allergies or asthma or someone in your home does, it can also increase the likelihood of health concerns if dirt and dust are being moved around in your home, rather than being eliminated. It's also important to choose a vacuum cleaner that has a HEPA (high-efficiency particulate air) filter which will be the most effective at reducing particulate matter in the air.
Bag or No Bag?
Bagless vacuum cleaners create less waste and are most cost effective because you don't have to replace the bags. They are also easier to clean however, it's important to consider how and where you dispose of the waste that collects in the canister. We recommend you wear a mask when emptying the canister because of the dust that is released, particularly if you are an allergy or asthma sufferer. However there are pros and cons for both bag and bagless cleaners. You can read more about these at: https://www.choice.com.au/home-and-living/laundry-and-cleaning/vacuum-cleaners/articles/bag-versus-bagless
How to Keep the Odours Out of Your Vacuum Cleaner?
If you are using vacuum cleaners that have cloth bags, you may have noticed odours coming from the vacuum.  This is due to improper maintenance or not servicing the vacuum cleaners.  The odours are caused by bacteria or mould that grow inside the bag.  It is important to empty the bags to keep the vacuum running efficiently, it is also important to keep it emptied to prevent bacteria and mould from growing and causing foul odour.  It is also equally important to clean or replace the filters regularly.  If you vacuum any food items, strongly recommended to empty or change the bag daily.  You may also consider investing in vacuum cleaners that have sealed HEPA filtration system.  This will keep odour-causing bacteria from escaping the bag.
We hope this guide helps you when it's time to make your next vacuum cleaner purchase. Look for environmentally friendly factors that give the best results whilst also caring form our future and our health.
Microfiber: More Than Just a Cleaning Cloth
Microfiber is no longer a "buzz word" that is taking the cleaning world by storm.  Most cleaning companies should be using them on a daily basis as a basic cleaning tool.
How to choose the right microfiber cloth for your all cleaning needs.  There are different grades of Microfiber for different types of tasks and most manufactures will carry at least 3 different types of  Microfiber cloths.  The most common types are:
Heavy Duty Microfiber Cloth - which is mainly used for heavy duty cleaning to remove deep soil and oils.
Medium Grade Microfiber Cloth - used for dusting and medium duty tasks such as wiping bench tops and sinks.
Microfiber cloths that have a suede like texture are used for glass, mirrors and for polished surfaces.  These cloths are usually much thinner than heavy or medium grade cloths, are more tightly woven and may come in blue colour.
When purchasing for your Microfiber cloths, visit your local cleaning suppliers, as they more likely to supply high quality Microfiber cloths.  You can usually tell a good quality Microfiber cloth by doing couple of tests.  First, run the cloth across your hand.  Does it seem to catch?  This is caused by the dense fibers and indicates quality Microfiber.  Next, put a small amount of hand lotion on mirror and then wipe your mirror cloth to see how many passes it takes to remove the lotion.  A good quality Microfiber cloth will remove the lotion in only one or two passes.
Microfiber cloths come in variety of colours and the reason for that to prevent cross contamination.  You certainly would not want to use to clean a toilet and then use the same cloth to clean your kitchen bench tops.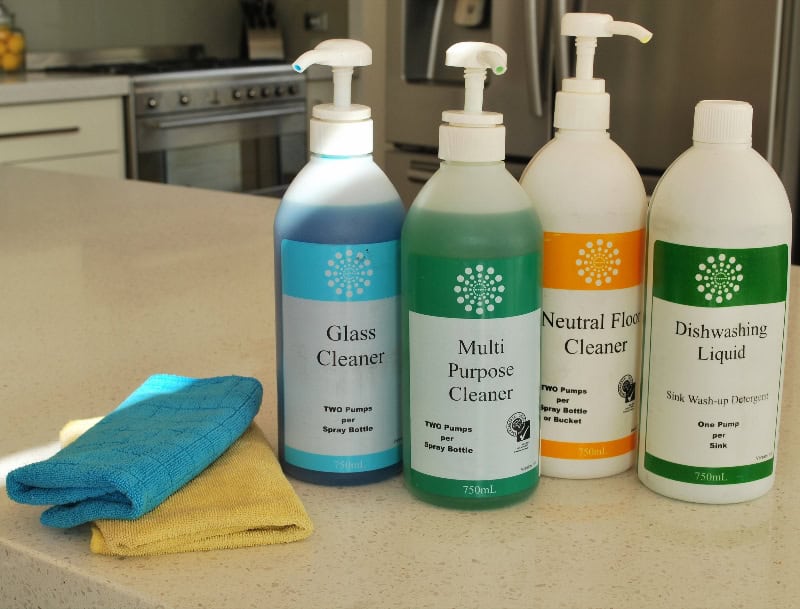 How to Care for Microfiber Cloths
when washing microfiber cloths, it is best to wash and dry them separately from other laundry items such as cotton cloths, towels or clothing.  If you don't wash them separately, they will pull the lint off these items and become so loaded it may make them useless.  Avoid using bleach and fabric softener.  Bleach will damage the fibers and fabric softener will reduce the static charge, which is an important part of what makes Microfiber cloth works so well.
when cleaning Microfiber, use about half the amount of laundry detergent you would normally use for a load of laundry.  Microfibers release soil very easily when washed, so more is not better in this case.  It is recommended that your water temperature not to exceed 95 Celsius.  Microfibers can air dry (Microfiber cloths dry very quickly) or you can use a machine to dry them as long as you use a low heat setting and do not add a fabric softener sheet.