The COVID-19 pandemic has brought the world as we know it to a standstill. Who would have thought this possible? We have heard from all the regulatory and government bodies that washing and disinfecting your hands is the way to eliminate germs but what about your home? How can you effectively keep it clean? What do you need to arm yourself with to safely disinfect your home and keep it germ free?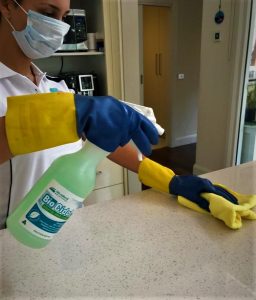 Now, more than ever, it's time to take action and learn how to disinfect your home and what products you should use so that your home remains your safe haven. In this article we take a closer look at how you can disinfect your home against the harsh germs circulated by COVID-19 and many other viruses and bacteria and the most effective way to keep your family safe.
Is There a Difference Between Cleaning & Disinfecting?
Cleaning and disinfecting may seem like the same thing, but there are differences. Cleaning does not kill germs, it's the process of physically removing dirt and grime from surfaces. Cleaning helps to reduce the number of germs on surfaces to reduce the risk of spreading bacteria.
Disinfecting is the process of using chemicals referred to as disinfectants to eliminate and kill germs that remain on the surface after cleaning. It's really important to clean surfaces before disinfecting to make the process much more effective.
How To Keep Yourself Safe While Cleaning & Disinfecting Your Home
Care should be taken to ensure your safety while cleaning. Here are 3 tips to keep yourself safe:
Wear disposable gloves when cleaning and disinfecting surfaces.
Dispose your gloves and wash your hands immediately when finished.
Open windows to ensure the room is well ventilated.
Disinfecting Frequently Touches Surfaces
Germs can live on frequently touched surfaces for anywhere between 10 minutes to 12 hours. This includes items such as door handles, benches, light switches, taps, table tops, toilets, hand rails, remotes, fridge door, microwave and any other area of the home that is frequently touched. The key to cleaning and disinfecting these highly frequented areas is to use a high grade (also known as a hospital-grade) disinfectant after you have cleaned the surface.
Once applied to the surface it needs to cure (left there to dry) for 10 to 30 minutes at room temperature to ensure that all traces of bacteria are removed. After it's cured, wipe the surface with a warm cloth. Be sure to rinse the cloth in warm soapy water before cleaning the next surface or better still use a fresh cleaning cloth for each area of the home you are disinfecting.
What Is a High Grade Disinfectant?
Regular household disinfectants are not adequate enough to eliminate and kill COVID-19 bacteria during the disinfecting process. Hospital-grade disinfectants need to be certified and contain at least 70% ethanol to effectively wipe out any bacteria. Using a high grade disinfectant will be the only way to ensure the hygiene and safety of your home.
Increase Air Circulation
During the cooler months that are approaching we tend to keep our doors and windows closed, however this action compromises the air quality in our home and increases pollutants. This creates a breeding ground for more bacteria, particularly when someone in our home is unwell.
The most simple and effective way to increase the air quality in your home is to simply open doors and windows. Try to do this on a daily basis, even if it's only 5 to 10 minutes each day. It will create airflow circulation and flush out any harmful pollutants and bacteria that may be present.
It's particularly important to open doors and windows when you're disinfecting your home. Surfaces that have been cleaned and left to cure will work much faster and will allow you to get back to enjoying more time with your family.
Professional Cleaning & Hospital Grade Disinfecting
Bliss Home Care are offering new and existing clients cleaning and disinfecting service to protect your home and keep it safe. This is part of our regular cleaning service and there is no additional cost involved. We also offer this as a once-off cleaning or spring cleaning service. We want to ensure your home is free from any viral activity and remains your safe haven. Click here to enquire now.
Bliss Home Care is using BioCidal Hospital Grade Disinfectant. We are huge advocates for green cleaning and this disinfectant is bio-degradable which means it's safe for our environment. BioCidal is a concentrated commercial grade quaternary ammonium compound (TGA approved by the Department of health for COVID-19) surface disinfectant.
BioCidal effectively cleans all surfaces including floors, walls, tiles, porcelain and laminated benches, leaving surfaces sparkling clean. It's suitable for use in homes, hospitals, restaurants, hotels/motels and general industry.
Act now to ensure the you keep yourself and family safe in your home, cllick here to enquire now. (link to enquiry/covid-19 cleaning page)
P.S. Be Kind to Yourself
Just as important as cleaning your home is taking care of your mental health. You may be surprised to learn that there is a correlation between have a clean home and your mental health.  There have been studies which show that decluttering and cleaning reduce cortisol stress levels and extend your physical well-being. Read our article Why Cleaning Your Home is Good for Mental Health and remember this is a stressful time so be kind to yourself.